Village Voice review of SHE WOLVES/MACH ONE
Bludgeoning Riffola, Suitable For When Fucking the World
She Wolves's Mach One: The Early Days
by George Smith
The cover art for the She Wolves' Mach One a chick in thigh-high boots regarded from the waist down—capably tips off consumers to the exciting, get-hard punk-rock noise waiting inside. With Donna She Wolf (late of Cycle Sluts From Hell) on guitar and vocals, the band's forte is bludgeoning riffola that's often knuckledragging and provocative, as on "Art of War," with its shouts of "Undefeatable! Undefeatable!" Achieving density somewhere between Budgie and Johnny Thunders & the Heartbreakers, the She Wolves are in a pretty good place if you desire equal portions of catchy tunes and heavy rock. Bonus points accrue when the band backs the mighty Syl Sylvain on a wall-of-sound take on "Sheena Is a Punk Rocker"; at song's end is a clip of Joey Ramone fondly musing about seeing Syl's New York Dolls at the Mercer Arts Center. In the flesh, Jayne County also makes an appearance here, startlingly effective on a cover of "California Alles." "Fuck the world/Call some whores/We're gonna have some fun!" Donna declares. Who would beg to differ?
---

Black Angel Promotions review of SHE WOLVES/MACH ONE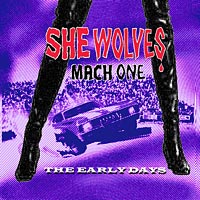 The She Wolves features among its ranks the legendary Donna She Wolf (former Cycle Sluts From Hell) and Tony Mann (former G.G. Allin/Dee Dee Ramone drummer). The band's debut disc Mach One, also has a few collaborations with original New York Doll, Sylvain Sylvain, as well as Jayne County and the Fuzztones' Deb O'nair. Talk about alot of history in one place - wow! What can you expect from the She Wolves first effort. A lo-fi, alcohol/adrenalin fueled pit of who laughs last wins! This isn't your everyday Punk Rawk, the Wolves go back and tap into the days of The Plasmatics and Wendy O...Crashing cars, burning houses, and lighting dynamite bricks can only begin to describe the tenacity that dwells within this disc. Donna She Wolf is back again and she's even meaner that we last saw - see "Art Of War" and "Desire". Jayne County's collaborations on "Razor Clam" and "California Uber Alles" is fucking Punk Rock Ecstasy, specifically on the DK cover! If there is a God somewhere, Jayne County sits on his left side. Sylvain Sylvain's presence is felt on a cover of the Ramones classic, "Sheena Is A Punk Rocker" ... Other gems on this disc are "Kill Something", "Highway 69" and "Chainsaw". If you've been missing out on legitimate Punk Rock music, The She Wolves debut, Mach One is exactly what you need! Get this cd and be ready for the best ride in a long time! In the words of the immortal Jayne County, "God Told Me To Kill You"!
( http://blackangelpromotions.com/shewolves.html )
---

Excerpt from Jersy Beat #74
"Attack Of The She Wolves"
Interview and Photo by Robert Barry Francos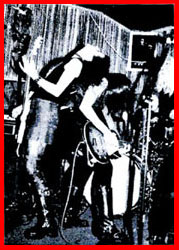 ...The first song "Art of War" is thematically classic punk. "Chupacabras" shows their humor as Donna and Laura suggestively seduce the listener with a tribute to 60's Mexican vampire sex films. "Murder Engine" is a slower grinding neo-metal. "A Hundred Bucks" is a tribute to minimalism, and as close to the Ramones oeuvre as one can imagine. The last cut, the only cover, is NY Doll's "Trash" with Donna leading the vocals and a very sexy sounding Laura asking "How is it you call your loverboy?" Donna explains the next release will be more of a punk sound, less metal. Hopefully not too much, because despite Donna's low self-esteem about her playing referring it to "shaky at best", truth is she wails. And while I'm not one for protracted guitar solos (i.e. more than 8 bars) her playing is exciting. And when the band gets on an instrumental groove, there's an energy rush tha reaches the audience which usually includes othrt musicians...
---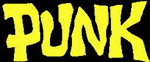 She Wolves
She Wolves
Lucky Bitch Music

PUNK Magazine Listening Party #16 (5/2/2003)
Jolly's Birthday Bash Part One
By Jolly Prochnik, Lou Copeland, Frank from Goin' Places, James A., The General, Maddy, and John Holmstrom
HOLMSTROM:
I know the guitarist/singer, Donna from the Cycle Sluts From Hell. (A good band from the late 1980s/early 1990s - The General and I did a great story on them for HIGH TIMES magazine in the April 1988 issue with some awesome photos by John Eder - one of the best stories I ever worked on.) Donna's new band is really good! They're great fun. They do a great cover of the New York Dolls "Trash."
JOLLY:
(Unintelligible) Supposedly, the drugs have taken effect.
FRANK:
These songs are simple and you might find yourself singing along right away (especially track five: "Trash"). Nothing revolutionary, but a good listen.
JAMES A.:
Fun fun fun! Comic pop punk for everyone! Rip it up grrrls! The Donnas should take a few notes from them. She Wolves "Trash" cover rules! 8 of 10.
LOU:
I like this. Lots of nifty exchanges. Only an EP but it doesn't lose its momentum. Good guitar work kinda sneaks in from the side.
THE GENERAL:
THIS BAND IS THE GREATEST! SHE WOLVES ARE THE NUMBER ONE STEAK SAUCE BAND! YEEEEEAAHHHHH!! EVEN BETTER THAN CHEESE DOODLES!
---


Long Gone Loser
Five track EP of metal punk from almost all girl group, She Wolves. Now if you wanna know these girls claim to fame, well on eof them was responsible for writing that song " Wish You Were A Beer". Remember that? The Cycle Sluts From Hell? Well you damn well should! It rocked! The She Wolves are what you'd get if you crossed the Lunachicks with old school Misfits although song3 "Murder Engine did remind me of the Stooges. Way cool. There's ven a cover of New York Dolls' "Trash" which is an ok version although it sounds like it was recorded at band practice. And why not?
---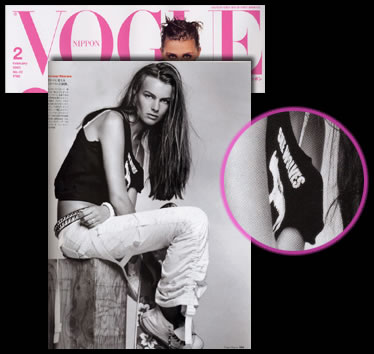 ---


Crusher Magazine
She-Wolves
Unsigned? Unbelievable. The She-Wolves' debut self-titled, five-song CD - which includes a cover of "Trash" by the New York Dolls - is full of hard, rocket-fueled punk that make some of the current mainstream girl bands sound like Britney.
The Wolves' first song, "Art of War" begins with some nice and steady drawn-out distorted electric guitar. Nice catchy pop-rock song, right? Nope. The song soon moves into a beautiful mile-a-minute array of high-pitched guitar, thumping bass and machine gun drums. And when Donna Nasr - of Cycle Sluts fame - belts out with her raspy pipes, shouting lyrics on textbook war survival at light speed, the circle is complete. Divine.
Hats off to drummer Tony Mann on "Art of War." Anyone who enjoys anything with a faster beat than a typical R&B fuck-anthem will be on the verge of an orgasm in no time. The first song has a little help from Jimmy Gestapo of Murphy's Law in background vocals and Shigenori Matsumoto of Suicide Kings for the guitar solo.
But the second song, "Chupacabras" is downright hilarious. While not as fast as "Art of War," the second song strives on Spanglish lyrics with a nice touch of RAUNCHY! Nasr and bass player, Laura Sativa, make listeners blush and giggle with lyrics such as, "I wanna suck you un poquito" and "Mira, baby you're so macho/I eat you up like a nacho." It's hard not to appreciate the creepy drawn out vocals during "Yo quiero ." change into a sweet schoolgirl sounding ". vampire sex."
"Murder Engine" tones things down a bit with a slower beat and bass. But the drugged-out vocals give the song the feel of a midnight, satanic goat sacrifice. No complaints here. The song seems to compare revenge to murderous femme fatale (Please forgive me if I'm completely clueless on this) with lyrics, "When you lie with vengeance/She will fold you in/Sprung from mortal coil/Sacrificed by sin."
The last She-Wolves original on the disc is "A Hundred Bucks." It's not a lyrical masterpiece but it works, dammit. The Oi! sounding shouts ask for a hundred bucks over and over again, promising it's not going to be spent on drugs. The song has a nice pace to it, but still doesn't compare to "Art of War." It's still a good enough caffeine substitute though.
Final verdict; She-Wolves can kick your lily ass. These ladies - and Tony Mann - are raw, fast and just damn good. It'll be a damn shame if She-Wolves is neatly packed into a girl band category. They just sound like a fantastic band that could kick the crap out of a good deal of their male counterparts. But it'll be a fucking travesty if they don't get signed. Granted, there were only four original songs on the cd, but what they had was fantastic enough to get them a record deal.
---- Codell Rodriguez
---

Shredding Paper
San Francisco, California
A pure example of why they call a threesome a power trio. The She Wolves successfully walk the fine line between punk and metal. Starting with a foundation of Tony Mann's hard drumming (he worked on DeeDee's last album), he strongly supports the bass playing of Laura Sativa, and the guitar and perfectly fierce, growling vocals of Donna Nasr. Also, the songs support them, as well. The opening cut, "Art of War" is classic punk, and "Chupacabras" shows they have a sense of humor. There's a cover of the Doll's "Trash", with Donna throwing in a very sexy sounding "So, how is it you call your loverboy?" But for me, the centerpiece is the minimalist, kickin', and hysterical "A Hundred Bucks".
Robert Francos
---

SHE WOLVES (CDEP demo)
[ Original French version below]
Whatever one says, rock'n'roll remains a rather macho sphere, and you have to be at least a she wolf when you are a woman and you grab a guitar for self expression. It works well that Donna Nasr and Laura Sativa have all the bad temper and intelligence of she wolves. But, not being sexist, they invited Tony Wolf Mann to sit behind the drums. (Tony is quite a personage; he played with G.G. Allin in the 80's, and plays on the new/posthumous Dee Dee Ramone record.) She Wolves debuted their new cd just before starting an Italian tour. Rather punk'n'roll ("Art of War", "A Hundred Bucks"), the band's music sometimes takes a path more grunge in spirit ("Murder Engine") or more iconoclastic (their cover of "Trash" by the New York Dolls, lo-fi and minimalist.) Watch out for an appearance by these New Yorkers on a split ep with the Valentines (Italy.)
[ 11-17-02 ]
-------------

Quoi qu'on en dise, le rock reste quand même un milieu assez macho, et il faut au moins être une louve pour s'en sortir quand on est de sexe féminin et qu'on décide d'empoigner une guitare pour s'exprimer. Ca tombe bien, des louves, Donna Nasr et Laura Sativa en ont toute la hargne et l'intelligence. Mais, pas sexistes, elles ont persuadé un ami à eux, Tony Wolf Mann (ce type est un personnage, ayant joué avec GG Allin dans les 80's, on pourra également l'entendre sur le prochain album posthume de Dee Dee Ramone), de s'asseoir derrière la batterie. Et She Wolves de nous proposer cette première démo, juste avant d'attaquer une tournée italienne. D'obédience punk'n'roll ("Art of war", "A hundred bucks"), la musique du groupe empreinte aussi parfois des chemins plus "grunge" dans l'âme ("Murder engine"), ou plus iconoclastes (leur reprise de "Trash" des New York Dolls, lo-fi et minimaliste en diable). Guettez l'apparition des new-yorkaises sur un prochain split-EP "442ème Rue", avec les Valentines (Italie).
[ 11-17-02 ]